Strictly Wicks Candle Company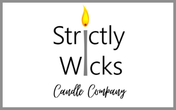 About the Owner/Designer/Creator -
Hello! My name is Kelli, and I design, create, and hand-pour all of the decorative candles found here. Every component of the candles have been thoroughly researched, extensively tested, and meticulously fussed over to provide you with a perfectly scented - not too strong and not too soft -, safe, non-toxic candle - safe for people, pets and plants - that feature a clean, even burn, ultimate scent throw, and incredibly long burn times giving you the absolute best (and most beautiful) scented candles you will ever own!
My Story ~

My company was created out of a love of candles - and the desire to breathe. The calming flicker and the pretty aromas of a candle while I read a book, worked around the house or was just lounging around watching tv, gave the room a cozy feeling that nothing else could. But I was having a hard time burning the candles that I'd fall in love with in the store because those candles had such over-powering fragrances that I couldn't breathe. My lungs would literally seize up because I have mild asthma. No matter the brand, soy or paraffin, expensive or not, after about a half an hour, I'd have to blow it out because I couldn't breathe. It seemed as though my days of having candles in the house were gone.

Or so I thought!

The Discovery -

One day, while scrolling mindlessly through my Facebook feed, I came across a post from a candle making group. I began to wonder if it were possible to create candles that would allow me to breathe. After a bit of research, I decided to give it a try. My thought was that if I control how they were made and what went into them, then maybe I could have candles in my life again! I had hope! And so, the adventure began...

The Journey -

I found out pretty quickly that making candles wasn't easy...lol...I laugh now, but there were many tears involved (and probably a few curse words exclaimed) during the learning process. There are so many elements involved. Each element plays a crucial role in the success or failure of a perfect candle. Finding the right wax to combine with the right type and amount of fragrance oil, and then choosing the best wick for the size of the jar I wanted to use...ugh! It was definitely a process! But, after months and months of trial and error (A LOT of error), I had created a candle that allowed me to breathe!

I had done it! Candles re-entered my fragrance-empty life.

The Candles -

I create candles using only the best ingredients. Made with premium-grade paraffin and scented with the right balance of high-quality, phthalate-free fragrance oils (low-quality fragrance oils smell like chemicals and fragrance oils containing phthalates have the potential for causing lung damage and/or breathing problems), all nestled into a beautiful jar with the proper wick size (because soot is nasty business) ensures a perfectly scented candle that you will notice when you come into a room, but it won't run you out of it.

I'm a perfectionist and every candle I make is important to me. I meticulously fuss over them until they're perfect. I ship fast and offer a 100% Money Back Scent and Performance Guarantee in the event you aren't happy with the candles for any reason.

Thank you for taking the time to read my story, and I hope I'll get to send one to you soon!

~ Kelli Davis <3